I am not one to literally copy something that someone does. Try to get ideas, yes, but copy no. I have come to learn that 'scrap lifting' is something that is usually welcomed in the scrapbooking community.

I subscribe to the magazine
Scrapbooks Etc.
and they had a layout with a sketch and templates for it, basically inviting you to scrap lift.
This was the article in the magazine:
And this was my version of the layout: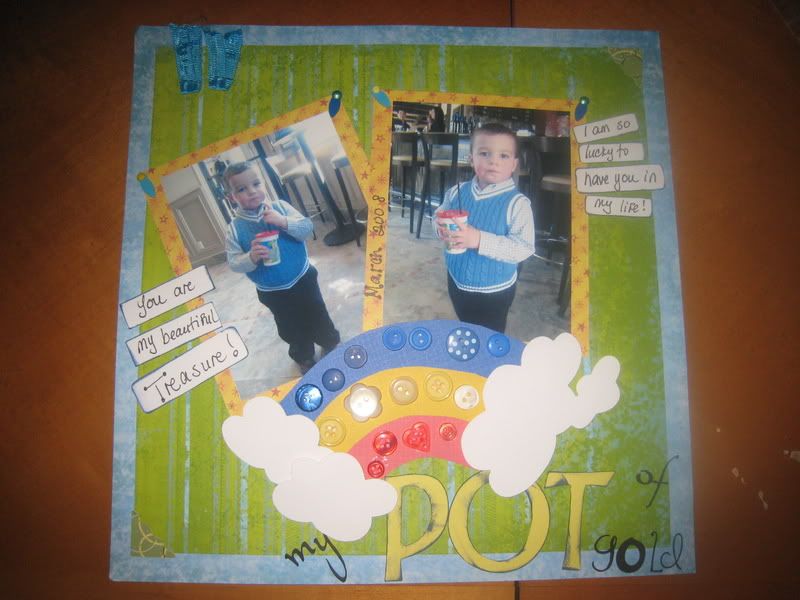 I started with a 12x12 sheet of blue paper, and cut down a green sheet of 12x12 for a pop of color. I added corner embellies to the green paper for a little extra touch. I matted my pictures with a bright yellow card stock from one of my "Designer Matt Pads" by K&Company and added anchors and brads to the top corners.
I didn't use the exact colors of the original - I wanted to make it my own.
I liked the idea of the little white tags to add the journaling, so I grabbed that idea right away!
I used my Cricut to cut out the clouds and title "My Pot of Gold". I also ink'd the edges of the title and white tags.

I like the idea of adding the colored buttons to the clouds but for some reason my version doesn't have that scattered look like the original does.
I hope to do more scrap lifting soon!